Educake Geography
High-quality, low-stakes testing for KS3 and GCSE Geography
Educake is the easy way to set meaningful tasks that students will enjoy, all designed to improve and assess your students' knowledge and understanding.
Improve results and reduce workload with Educake Geography
Educake makes setting low-stakes tests for homework and revision quick, easy and effective. It's the easiest way to set high-quality auto-marked geography homework. It has thousands of carefully-written questions and an unbelievably easy-to-use system, at a sensible price.
You can now set meaningful homework tasks in seconds that students can complete on their phones and tablets.
Get a FREE 30 day trial today Book a demo
Fully functional, unlimited students and teachers for 30 days with no obligation.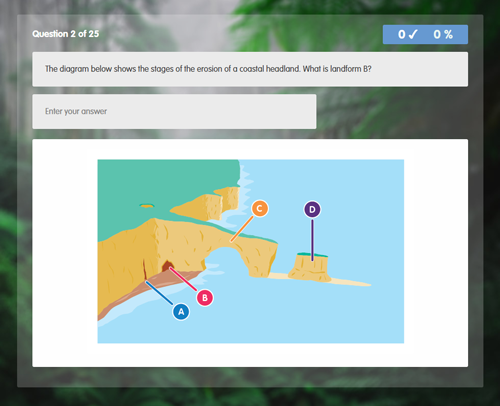 Using Educake… we feel that we have finally found a strategy that is effective, engaging and rewarding for students.
Thomas Myatt, Head of Geography, John Hanson Community School
Find out how this school is using Educake to make retrieval practice and interleaving easy:
Read the full case study
Exam Boards
When you start an Educake trial or subscription, you choose the exam board your school uses. All the Educake questions will then be arranged according to specification points from that exam board, so you can quickly find what you need.
Educake currently covers these exam boards for GCSE geography:
If your school switches exam boards, don't worry. You can switch to or add a different specification at no extra cost. Just email us at support@educake.co.uk and we'll do this for you straight away.
Educake Geography pricing
A school subscription to Educake Geography costs £500 per year, plus VAT. This is payable annually, at the start of the subscription.
There is no limit on the number of students or teachers you can have.
What's included
| | |
| --- | --- |
| Thousands of geography questions | |
| AQA, Edexcel A, Edexcel B, OCR A and OCR B | |
| Key Stage 3 | |
| Auto-marking | |
| Customisable quizzes | |
| Students can create their own quizzes | |
| Quiz results analysis | |
| Give feedback on individual questions | |
| Track performance by topic | |
| Research-based algorithmic quiz creator | |
| Study Guides (AQA) | |
| No installation hassle - we add your students | |
| Student league tables | |
| Individual student reports | |
| Use with any device: PCs, tablets, phones | |
| School statistics to compare classes | |
| Free app for Android phones and tablets | |
| Free app for Apple phones and tablets | |
| Teacher accounts | Unlimited |
| Student accounts | Unlimited |