Brilliant retrieval practice just for English
Rigorous questions created by English teachers
We've worked with English teachers to create rigorous questions that increase students' knowledge, cultural capital and skills, but can still be auto-marked.
Active learning through formative assessment
When students complete a quiz in Educake, they actively demonstrate what they know and build stronger recall in a low-pressure environment.
"Educake is likely to have a real impact on students' progress by providing endless opportunity for retrieval practice." – David Didau, judging the Teach Secondary Awards
Differentiated support with English Skills
Educake has hundreds of questions to develop students' core skills.
Every student has different needs – with individualised retrieval practice, everyone can make progress independently without adding to your workload.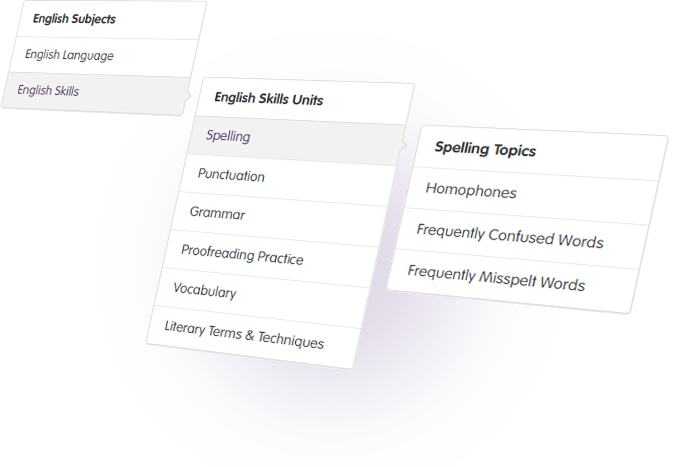 "Absolutely love it! Students get instant feedback and works for all abilities."
– Eireann, Head of English
Still not convinced?
Read a case study from Minsthorpe Community College
"It has fabulous potential with long-term use. I love the way Educake has thought of how teachers and students can progress together through teaching and learning."
– Anita, English teacher
How Educake can help with English retrieval practice.
"I haven't ever seen anything that does what Educake does for GCSE English."
– Nicola, English teacher
"I find it really useful to cover KS4 texts and use as an interleaving exercise."
– Lindsey, English teacher
Unbeatable coverage for AQA, Edexcel and Eduqas GCSE
Educake has everything you need to help students do well in English. View more details of what's covered for your exam board:
All subscriptions also include KS3!
What do quizzes look like to students?
Educake English Pricing
A school subscription to Educake English costs £800 per year, plus VAT.
This is payable annually, at the start of the subscription.
Educake English includes questions for KS3 English and both Language and Literature questions for the AQA, Edexcel or Eduqas GCSE specifications.
What's included
High-quality questions and revision

Thousands of English questions for KS3 and GCSE
GCSE English Language and Literature for AQA, Edexcel and Eduqas
Reading homework with extracts included
Time saving

Auto-marking questions
Customisable quizzes
Random question selector to create pre-made quizzes for you
Give personalised feedback to students on an individual question or whole quiz
Enables independent study

Research-based, adaptive algorithm creates quizzes for every student
Students can create their own quizzes
Tools to help students understand their strengths and weaknesses and guide their revision
Data and analysis

Quiz results analysis and markbook
Track student performance by topic
Individual student reports
Student league tables
School statistics to compare classes
Accessible and easy to use

No installation hassle - we add your students
Use with any device: PCs, tablets, phones
Free app for Android phones and tablets
Free app for Apple phones and tablets
Unlimited teacher accounts
Unlimited student accounts
Used by over half a million students every month